Trista Sutter on The Bachelorette Finale: Yay for Ed! Reid, Really?
by Trista Stutter, http://ca.eonline.com/uberblog/watch_with_kristin/b136390_trista_sutter_on_bachelorette_finale.html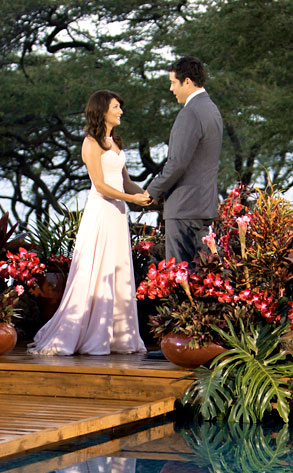 ABC/MARIO PEREZ
Dun, dun, dun...It's finale recap time!
For 10 weeks, we've been watching Jillian's search for love. Yes, it's a television show that is out for ratings, but like millions of Americans, I continue to believe that two people can meet and fall in love under the harsh glare of reality-TV cameras.
Isn't that why we are all tuned in on Monday nights? The hope that love will win out, even in the most unusual and bizarre set of circumstances? Well, that's why I have my TiVo set! Am I biased? Sure. But when I look into the beautiful eyes of my children, I can say beyond a shadow of a doubt that love from a TV setup is most definitely possible. Will it be a reality for Jillian? Only time will tell. For now, though, I just want to see a happy ending to a crazy courtship.