Ryan and Trista Sutter chat about their two children and Trista's full-body makeover.



Check out
Entertainment Weekly
for a
Bachelorette
Update for Episode 5. (And yes, a poem can melt any girls heart. Remember Ryan's poem to Trista? Heart melter!).
Bachelorette,
Trista Sutter
, answers questions about parenthood and whether she'd like her own reality show. "We're open to doing little updates that you see on
The Bachelor
because we love to show off our family and let people know what we're up to. But when it comes to having cameras in the house 24/7, it's not something we'd venture into. We want to keep it relatively private, and I want to shield my kids."
Read the full interview here!
Re-live Trista and Ryan's sweet love story!
No Mess, No Problem for The Bachelorette
by Joal Ryan, http://www.eonline.com/uberblog/b136377_no_mess_no_problem_bachelorette.html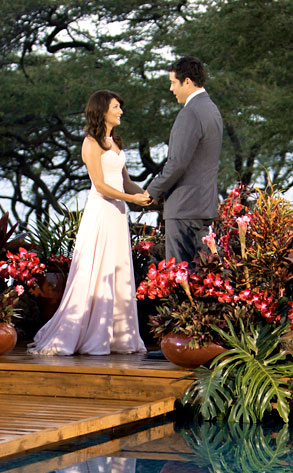 ABC/MARIO PEREZ
The Bachelor or The Bachelorette? Ellen DeGeneres or Katie Holmes? And rocket scientists or regular ol' sitcom types?
The answers—and more questions—in our weekly TV quiz:
1. Who's the bigger closer: Jason Mesnick or Jillian Harris? The answer, which is Mesnick, isn't the whole answer. In its own way, last night's rather routine finale for the Harris edition of The Bachelorette was as successful as Mesnick's famously messy Bachelor farewell in March. The Bachelorette season closer scored its biggest audience since 2004, ABC said; in March, The Bachelor scored its biggest audience since 2003.
2. Define big. In the case of The Bachelorette, you're talking nearly 10 million viewers, per preliminary Nielsen estimates. With The Bachelor, the audience numbered about 15.5 million (and then hit 17 million for the Melissa Rycroft-dumping, postfinale show).
Ruby Princess (Photo: Princess Cruises), http://www.examiner.com/x-11850-Bachelorette-Examiner~y2009m6d25-Bachelorette-couple-Ryan-and-Trista-Sutter-will-inaugurate-Ruby-Princess-for-5-year-anniversary






Bachelorette couple Ryan and Trista Sutter will inaugurate Ruby Princess for 5-year anniversary
by Lindsay Conner
Trista and Ryan Sutter, stars of the first season of ABC's
The Bachelorette,
will "christen" the
Ruby Princess,
the newest ship of the Princess Cruises fleet. The event will take place on November 6 in Fort Lauderdale, with the ship then taking off on a Western Caribbean itinerary with stops to Jamaica, Grand Cayman, Princess Cays in the Bahamas and Cozumel, Mexico. The timing is appropriate, as Trista and Ryan will celebrate their fifth wedding anniversary this fall. The two met in 2002, on set of
The Bachelorette.
On the show's finale in November 2002, Ryan proposed after he received the final rose. On December 6, 2003, the couple wed in a televised ceremony on ABC, with 26 million viewers.
check out more of Trista and Ryan's cruising adventure
here.