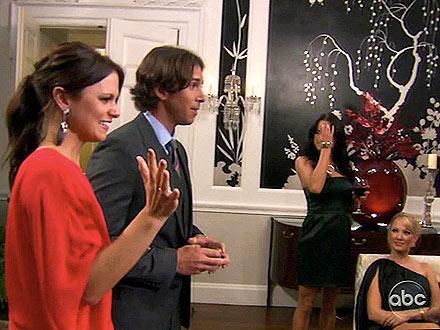 In this new interview with
People Magazine,
Shawntel Newton explains why she came back for Ben Flajnik.
On her connection with Ben Flajnik
: I made it very clear on Twitter I had a crush on him and wanted to get to know him [during] Ashley's season. He sent me a private message and we exchanged numbers. We [said] we should meet in person but he couldn't be seen in public. It never happened.
Did she think she'd get a rose:
I was very confident walking in, because I knew he felt something for me, too. I really thought he would keep me and at least take me on a date to see if there was something. I would have liked that a whole lot better than talking to him for two minutes, getting picked on and then being sent home.
Who were the worst offenders?
Jaclyn told me she wanted to punch [me] in the face. Courtney was the most harsh. When I got sent home, she laughed and said, "Sayonara." Defending myself for two hours was exhausting. A girl can only take so much. I snuck off to the bathroom and I cried. Read the full interview with Shawntel Newton at
People.com!