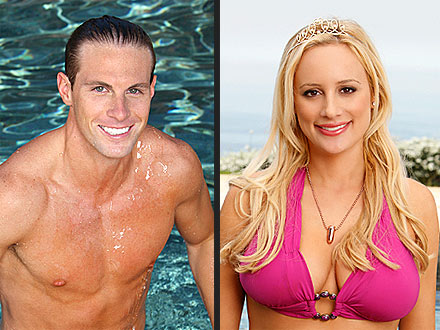 In this NEW People Magazine
interview
with Bachelor Pad's Blake Julian and Erica Rose, the couple talks his relationship with Melissa and Holly, their experience on the show.
Did smooching Melissa kill your game early on?Blake:
I definitely regret kissing Melissa [because] her strong emotional reaction was a pretty big death blow to get away from. It followed me constantly. She rallied the whole house against me.
Were you surprised Holly voted you off?Blake:
No. She was torn, but Michael was her teammate. I felt bad putting her in a position where she had to choose.
Why give the roses to Kasey and Vienna?Blake:
Kasey and Vienna claimed to have the most influence the whole time. It was a last ditch effort to have them put their money where their mouth was and unfortunately they were broke.
Erica:
We were trying to do what was best for us strategically. In their minds, they were running the house. They had no idea their alliance wouldn't listen. Full interview at
People.com!