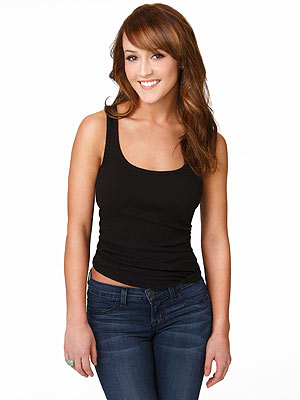 What happens in Vegas....
Dates in Las Vegas: Ashley gambles hers in sizzling Las Vegas. The dates for this week have the 18 remaining bachelors dreaming of finding true love with the Bachelorette. Once at the mansion, they quickly learn that roses will be at stake on the one group date and on two individual dates with Ashley. However, the competition is revved up when they learn that not all the men will get dates before the next rose ceremony, so the bachelors must take advantage of every opportunity to score points with the Bachelorette.
1-on-1 Date: Ashley whisks away her first date, William, in a private jet to Las Vegas. Ashley puts her handsome but nervous bachelor to the ultimate commitment test by sending him through a series of wedding preparations. Later that night, she surprises William with a VIP first-ever dinner in the middle of the renowned Bellagio Lake.
Group Date: The 12 guys head to Las Vegas to join Ashley at the Monte Carlo Resort and Casino, where the group meets the Jabbawockeez, the celebrated hip hop dance troupe. The men are thrilled by the special performance the dancers have staged for them, but their excitement turns to panic when they discover that they'll be doing some dancing of their own. Teams of six men each will conceive, rehearse and perform a routine for Ashley and the Jabbawockeez. The winning team will spend the night in Las Vegas, performing on stage with the famed dancers before a sold-out audience.

West Lee tells Ashley about the death of his wife: West shares the heartbreaking story of the death of his wife with Ashley. She died in a bathtub.

1-on-1 Date: Back in Los Angeles in another game of chance, J.P. and Mickey flip a coin to see who will join Ashley in Las Vegas for the final date. Ashley and her man of the day repeatedly flip a coin to decide the course of their day together. After a leisurely afternoon and a visit to a beautiful aquarium, the couple enjoy a romantic dinner and a special private concert by hit singer/song-writer Colbie Caillat.


At the end of the night, 15 men remain to battle for Ashley's heart.

The 18 remaining men are:

Ames, 31, portfolio manager from New York, NY
Ben C., 28, lawyer from New Orleans, LA
Ben F., 28, winemaker from Sonoma, CA
Bentley, 28, businessman from Salt Lake City, UT
Blake, 27, dentist from Greenville, SC
Chris D., 25, sports marketing coordinator from Chicago, IL
Constantine, 30, restaurant owner from Atlanta, GA
Jeff, 35, entrepreneur from St. Louis, MO
J.P., 34, construction manager from New York, NY
Lucas, 30, oilfield equipment distributor from Odessa, TX
Matt, 28, office supply salesman from Bridgewater, MA
Mickey, 31, chef from Cleveland, OH
Nick, 26, personal trainer from Tampa, FL
Ryan M., 27, construction estimator from Royal Oak, MI
Ryan P, 31, solar energy executive from Corona Del Mar, CA
Stephen, 27, hairstylist from Manhattan Beach, CA
West, 30, lawyer from Chapin, SC
William, 30, cellular phone salesman from Galloway, OH