Last week, former Bachelorette contestant (Jillian Harris' season),
Julien Hug
, committed suicide. Julien's body was found at the side of the road on a busy highway in San Diego last week. Julien was eliminated in the second episode of the Bachelorette.
A public funeral is planned for next Friday, Nov. 12. In lieu of flowers, BertandHug asks well-wishers to send donations to the Julien Hug Foundation, c/o of the The Village Community Presbyterian Church at 6225 Paseo Delicias, Rancho Sante Fe, Calif., 92067.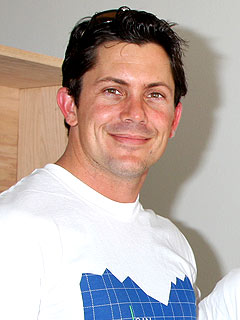 Former Bachelors respond to the news of Julien Hug's death....
Source:
RealitySteve.com
Jillian Harris:
Please say a prayer for the loss of a friend this morning. Life is fragile, don't forget to love the ones you love."
Wes Hayden: "Julien was a nice guy and very likable. I remember he laughed a lot which made me laugh. My prayers go out to his family. He will be missed."

Reid Rosenthal: "He was like the dad of the group. Always mature and there to talk or help you out. Great chef and a great soul. He's in a better place now. My love and prayers go out to his friends and family."

Tanner Pope: "I remember being sick of sandwiches in the house so Julien decided to cook the whole bunkhouse some 'yardbird risotto'. Wes looked at me and said, 'What the hell is risotto?' in his country slang, and I said back to him, 'What the hell is yardbird?' So thank you Julien for introducing the bunkhouse dudes to your amazing yardbird risotto. You will be missed."