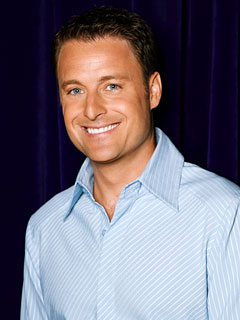 Chris Harrison's Bachelor Pad blog can be found each week at
EntertainmentWeekly.com.
How did Chris Harrison feel about the disgusting pie-eating contest? Here's what he says... "This week's challenge was easily one of the grossest things I've ever witnessed. First of all, I tasted the pie, if that's what it really was, and it was disgusting. I was amazed at how the women went after it during their contest. I figured they would just mail it in and not go for it, but I was dead wrong. They absolutely put the guys to shame. In the guys' defense, after sitting around watching the girls eat, gag and puke their way through the contest, I have no idea how they even sat down in front of a pie. Gia and Weatherman won the prize and were safe from elimination. Even at this early stage you can already tell, winning the competitions is so valuable. During the competition we got our first glimpse of the partnership/relationship between Gia and Wes. Things took a step further on the date, where Wes spilled his guts and admitted he has serious feelings for Gia. This relationship is compelling on many levels: First of all, Gia has a boyfriend back home and is having to deal with the fact that she clearly has feelings for Wes. Secondly, Gia completely sabotaged her own plan by following her heart and not her head by giving Wes the rose instead of saving Craig M. It was ironic that after she admonished the Weatherman for thinking with his "emotions" Gia did the exact same thing and turned the house and the game upside down. It was also incredibly ironic that in the end the Weatherman and Craig M needed each other to survive. Just goes to show, the Bachelor Pad is a strange place."
Read the rest of the Chris Harrison blog here.