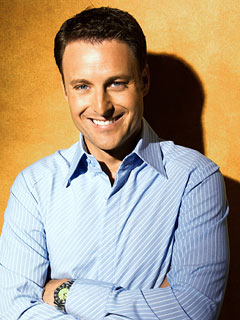 The Chris Harrison Blog can be found each week at
EW.com!
From Chris' blog.... I really wasn't sure just how good this "Men Tell All" episode was going to be, mostly because I worried the guys were too buddy-buddy to give us any solid content. Oh how I was wrong! We shot this episode in a new, much bigger studio than the one we usually use. That meant we could fit even more fans in to see the show, which really helped crank up the atmosphere and excitement. I love hosting shows in front of a live studio audience.
The sit-down interviews I did with Ali to start the show were a blast. These little post-game chats have become a tradition now, and I love doing them. We shoot them after the show has been wrapped, so everybody has had time to watch the show back and really reflect on what's happened. Ali was obviously relaxed and in a good place, so it was fun to go back over everything that had happened. As for the scenes you didn't get to see, well apparently Ali didn't remember all of them, either. It was hysterical how she forgot the space-helmet bit. I loved that our producer Cassie had the footage up on her computer, and we just brought it into the interview. Ali and I were laughing our butts off on that one.
We'll hear much more from Frank next week when he appears with me on the "After the Final Rose" special, but it was very interesting to hear what the guys thought of him. I agreed with Craig R when he said this situation was very different than the Rated R situation. I look forward to talking to Frank next week because, honestly, I have more questions than answers right now: How did he and Nicole leave it when they broke up? When exactly did they break up? And what was their relationship when he came on the show? And that's just for starters. Again, we'll get all those answers next week on the "AFR" special.
Kasey was a very good sport at the special. I found it funny how all the guys gave him such backhanded compliments. "Yeah, you're completely crazy but I love ya." The thing I really wanted to hear from Kasey was where all the "guard and protect your heart" stuff came from, because I knew it had something to do with his past. Kasey's been hurt badly before and he really didn't want to see that happen to Ali. Maybe he didn't go about presenting it the right way, but to a certain extent, you have to respect his sincerity. As a non-tattoo guy, I still have to say I don't get the tat! No amount of explanation convinces me that was a good idea. I loved when Kasey got up toward the end of the show and sang another song for Ali. He still can't sing worth a damn, but I told him afterward if he had shown that kind of personality during the season, he probably would have stayed around longer.
The segment with Kirk was the toughest by far. I could tell he really had strong feelings for Ali and was still a little hurt and confused as to what went wrong. It was also interesting to hear his take on Frank. If anybody got screwed by Frank's selfishness, it was Kirk. I was glad he was honest about his feelings, saying even though he likes Frank as a person, he's a little pissed he took that extra time away from him and Ali. It probably wouldn't have made a difference in the end, but you never know, and that's what bothered Kirk. Read more here.