Check out
Ali Fedotowsky's Bachelorette Blog
each week on People.com.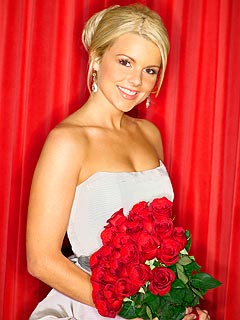 Ali says "What would
The Bachelorette
be without a helicopter ride? And let me tell you, it was terrifying. It was really windy that day, so the flight was not smooth at all. I wasn't thrilled that the helicopter kept suddenly dropping when we were flying over hundreds of buildings in New York City! So scary! Once we landed, I had such a hard time figuring out
Kasey
. The first time he sang to me, I actually tried to play it off and started making up silly raps to make it seem like we were just playing around. When he sang to me for a second time in the museum, it was just too much. Kasey does have a huge heart, and I knew that I wasn't ready to let him go. Plus we had a lot of fun! How cool was it that we got to run around in a museum with no teachers to tell us not to? I've wanted to do that since grade school! Being silly and acting like a kid with Kasey was so much fun. And did you see all the dinosaurs? Some of you may know that I have a strange affinity for dinosaurs. I actually like them so much that I made up a dance just for them. It's called the "Dino Dance." I will upload a video of it to
my Facebook Page
once the show is over so all of you can see my favorite dance...."
Read the rest here.