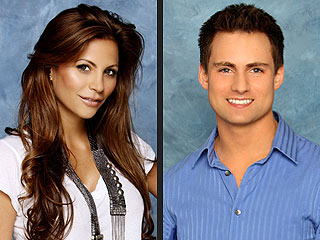 Gia
Allemand and the Weatherman got sent packing on this week's episode of the Bachelor Pad. After being sent home, Gia and Weatherman (aka Jonathan Novack) talk about Wes, the kissing competition and being voted off way too early.
Check out this NEW interview with
People.com and Gia!
People.com- You were obviously very upset leaving the Bachelor Pad. How are you feeling about it now?
Gia-
Time has passed, but going home right after the show was extremely hard. The main thing that's hard right now is me just trying to keep
Chris
, who was my boyfriend while I was on the show, protected. He didn't sign up for this, so I'm trying my hardest just to not get him dragged anymore into this than he already has been.
Are you guys still together?
I'm going to keep that secret and private. I'll probably talk about it at the finale or something. (And don't forget to check out Gia's weekly
Bachelor Pad blog
for more behind-the-scenes!)
If you could redo the show, would you have gone on without a boyfriend since it obviously held you back?
I would never have gone on [the show] with a boyfriend. It's just too hard. I mean, the whole time you're thinking you don't want to hurt your friends and then you have to think about how you're going to be portrayed or interpreted back home by your boyfriend and your family. He was a big worry in the back of my head and you can't really compete with that hanging on your shoulder in that house and that game. If I had to go back, I would have to be single.
Read the full interview here!
Check out Gia's weekly Bachelor Pad Blog!