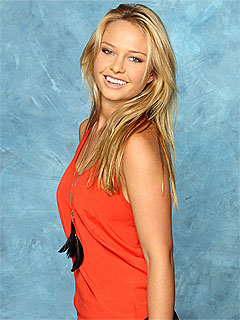 The Bachelor's Madison Garton is speaking out about her abrupt departure from Brad Womack. In this NEW interview with People Magazine, Madison says that she left after hearing Emily's story and that she didn't want to be Brad's Texas housewife.
From the interview...
When did you decide to leave?
Madison:
When I was talking to Ashley on the couch and I started bawling. We were just having a conversation about nothing and all of the sudden I was a wreck. I realized it was probably time for me to go. I had a shaky feeling, and I just didn't feel right being there.
What's the backstory with the fangs?
Madison:
I have always been into the darker side of things and love the mystery and sexiness of vampires. I became friends with the leader of the underground vampire world. He had a fangsmith so I had a pair made. I wore them for Halloween once and had such a blast that I brought them out on numerous occasions afterwards. It has become kind of my signature thing. It was a vote of confidence that Brad was able to handle it. If he couldn't swallow the fangs, he was not going to swallow the whole [me].
You can read the full interview with Madison Garton
here!
Bachelor Pad winner, Natalie Getz, blogs about The Bachelor!