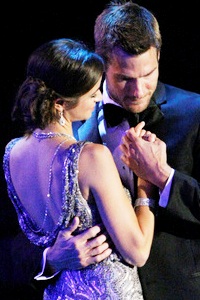 It's more drama this week on The Bachelor. Raichel doesn't like Melissa, Michelle is in tears during her birthday and everyone is wondering why Madison's fangs never came out.
In the end, Brad Womack gives the roses to the following ladies...
1. Ashley H
2. Jackie
3. Emily
4. Chantal
5. Sarah
6. Allie
7. Kimberly
8. Shawntel N
9. Stacey
10. Ashley S
11. Madison
12. Lisa
13. Marissa
14. Meghan
15. Lindsey
16. Britt
17. Michelle
Ladies, if you did not receive a rose tonight, take a moment and say your goodbyes.
..
Raichel, Keltie and Melissa.
Check back tomorrow to read Bachelor Pad winner, Natalie Getz's Bachelor Blog!