No Mess, No Problem for The Bachelorette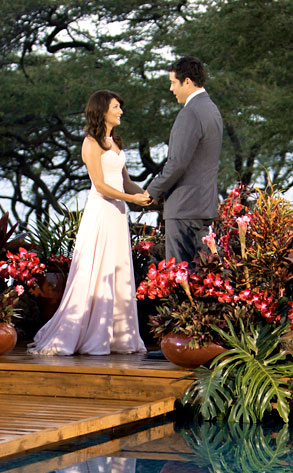 ABC/MARIO PEREZ
The Bachelor or The Bachelorette? Ellen DeGeneres or Katie Holmes? And rocket scientists or regular ol' sitcom types?
The answers—and more questions—in our weekly TV quiz:
1. Who's the bigger closer: Jason Mesnick or Jillian Harris? The answer, which is Mesnick, isn't the whole answer. In its own way, last night's rather routine finale for the Harris edition of The Bachelorette was as successful as Mesnick's famously messy Bachelor farewell in March. The Bachelorette season closer scored its biggest audience since 2004, ABC said; in March, The Bachelor scored its biggest audience since 2003.
2. Define big. In the case of The Bachelorette, you're talking nearly 10 million viewers, per preliminary Nielsen estimates. With The Bachelor, the audience numbered about 15.5 million (and then hit 17 million for the Melissa Rycroft-dumping, postfinale show).