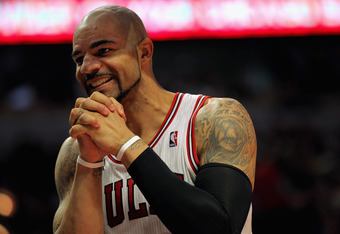 Carlos Boozer
Remember last episode on The Bachelor when Dr. Drew asked the ladies if anyone has had an affair? It was a good thing crazy Michelle wasn't on that date.
Tabloid are reporting that the Bachelor's Michelle Money has admitted to having an affair with NBA star, Carlos Boozer. Michelle told Life & Style magazine that she dated NBA star Carlos Boozer.
The 29-year-old, who was married at the time, played for Utah Jazz but later moved to Chicago Bulls.
'Yes, I was in a relationship with Carlos while he was still married,' she admitted to the magazine. 'What I did was wrong.' Will Brad find out Michelle's secret? You'll have to wait and see!