Jake Pavelka's Bachelor Blog at
People Magazine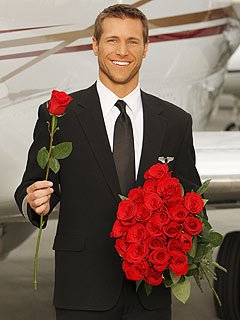 Via: People Magazine

This week was incredible. Each of the four families I met were great but I have to admit — I was a little nervous!
New York City was a great place to visit first. Gia was completely energized being back in New York City and it really showed that she was finally in a comfortable, familiar environment. We had so much fun on our date! I loved sightseeing by boat, which was something I had never done there. Gia has a very loving family but I was wondering whether or not they would accept a Southern guy. Surprisingly, I had a lot in common with her dad. Her mom was very curious as to how I could be falling in love with Gia and three other women at the same time and it was clear it made her uncomfortable. Apparently, it made her need tarot cards! Let me just say, tarot cards are not my forte at all, but I played along. One thing that you didn't get to see on Monday night was Gia's mom explaining to me that it had been years since she had read someone's cards. That's why she employed the help of Reading Tarot Cards For Dummies. I about died laughing when she pulled that book out! I love Gia's mom! That was definitely a highlight of the evening.
Getting to spend time with Ali in Williamstown, Mass., was great! This was a hometown visit I had really been looking forward to. Ali has an amazing heart. I realized how beautiful she was when she told me she cared for her grandmother during her illness. Ali has a heart for other people and cares for others more than she cares for herself. Granted, she can instigate a lot of drama with Vienna, but people do mysterious things in the name of love. Ali comes from a very loving family and I really felt comfortable there. After I met her mom, brother and sister earlier in the evening, I got to meet her dad briefly … such a great guy! It was hard to pull myself away from Ali that night; we shared some of the most passionate kissing I had experienced so far!
Well, I finally got to check Oregon off my list of places to go. Thank you, Tenley! It is such a beautiful area. I really loved her family a lot and her little sister is a doll! If I do marry Tenley, it's very clear that I will gain a strong family with great values. Her dad is a very spiritual, successful and compassionate man and I gained a huge respect for him and the way he raised his two daughters. You may have seen a lot of tears, but they love to have fun, too! Off camera we moved all the furniture aside, salsa danced then jumped into the Jacuzzi. The highlight for me, though, was at the dance studio watching Tenley. I fell in love with her when she showed me her lyrical dance. (REALLY JAKE? THERE AREN'T TOO MANY GUYS WHO WOULDN'T FALL ASLEEP WATCHING A GIRL DANCE FOR HIM.)

I was so excited to see Vienna. She always relaxes me and after a week of visiting families, I was ready to relax in a place I've always loved, Florida. On the riverboat, we kept daring one another to jump in with the alligators. Fortunately, no one took the dare. Of all the women left, I was really curious to see who in Vienna's life taught her how to love so hard. It became clear that Vienna has grown up with a very strong example of what a marriage should be like. They're a very tight unit and her father is a wonderful, loving man.
After visiting all the families, I felt really good about where I was in this journey. Then I got back to L.A. and the bottom dropped out. My heart crumbled when she told me her boss demanded her back at work. I didn't actually think she would leave me. We talked about it for three hours that night while the poor women at the rose ceremony just waited. She actually didn't have to be back at work for four or five more days but we were leaving the country the next morning, so she had to make a decision. I felt like she wanted me to make the choice for her, but I couldn't. How could I live with myself if I told her, "No! You are not leaving me now!" and then realize a week or two later that she was not "the one." I couldn't make the decision for her. When she told me she was leaving, my heart stopped. I wish I could've had Mike Tyson punch me square in the jaw, because it would have felt so much better than what I feeling as I watched AliCat drive away that night. What could I do? I had to regain my composure and focus on the amazing women I had left; three women that I have fallen in love with. Leaving the country felt like a clean slate. Next week we are in Saint Lucia! EVERYTHING changes. This is where the real emotions start to run wild. Relationships are solidified and become unstoppable. (LOVE THE DRAMA, JAKE "RELATIONSHIPS SOLIDIFY AND BECOME UNSTOPPABLE. DO YOU ACTUALLY WRITE YOUR OWN BLOGS BECAUSE WHO TALKS LIKE THAT?)

Until next week everyone …
In the meantime, fly safe! –Jake Pavelka